About
Valerie White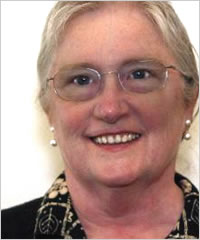 Formerly adjunct professor of legal writing at the Massachusetts School of Law, Valerie White practiced law in Vermont for fourteen years. She held management positions at battered women's shelters in Greater Boston and was director of program development at Boston Alcohol and Substance Abuse Programs, Inc.
She is also a Humanist minister, ordained by the Humanist Society.
She has been the consulting editor of The Humanist magazine and president of the Vermont ACLU affiliate. She was the first president of Unitarian Universalists for Polyamory Awareness and currently serves on their board. She is also on the board of Interweave Continental, Inc., the Unitarian Universalist GLBT organization, and serves on the coordinating council of Family Tree. She is on the advisory council of the Woodhull Freedom Foundation.
Valerie has spoken on polyamory and on sexual freedom and the law at True Colors, Transcending Boundaries, PolyCampCon, Poly Pride New York, Unitarian Universalist General Assembly, Boston Area Sex and Spirituality Network, PolyLiving, Loving More East Coast, the Bedford Lyceum and Building Bridges. She has had articles on polyamory published in The Humanist and Loving More magazines.
She is available for speaking engagements on the topic of sexuality and the law. Contact her here.